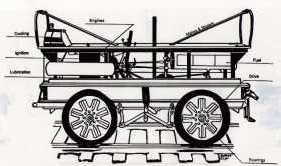 PLEASE NOTE: THE LIBRARY NOW HAS A NEW OWNER.
PLEASE CONSULT THE ORDER PAGE FOR CURRENT INFORMATION.

The library consists of over 280 rail motor car and motor car related files, including:
operators manuals

performance sheets

parts lists

maintenance instructions

manufacturers catalogs

manufacturers advertisments

....and more interesting related items!
If you own or operate a rail motor car, or if you are just interested in what makes them tick,
the information you need may be here.
---
---
To order printed copies of library files, please follow the directions on the
{ORDER PAGE }.

Go to the { LIBRARY LISTS ] now.

__________________________________________________________________________________________________________________________________ __________________________________________________________________________________________________________________________________

{ Back to RRSTUFF site CONTENTS}
---